Heavy Brain : two-player puzzle (Unity & UNet) – GlobalGameJam 2018
Heavy Brain is a two-player puzzle / exploratory game . Play as either a cop on the field or a remote operator.
Find the hints, share intel (orally) in order to stop and kill a bomb terrorist ( before he kills you ).
This game was made in 36 hours with Unity and Unet(for network communications).
My tasks :
– Participation in game conceptualization
– Gameplay programming : player (cop), camera (cop), manage multiplayer communication (UNet), News behavior : drag'n drop etc (remote operator) …
Cops view
Cops view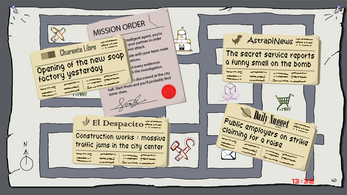 Remote operator view (2nd player)

We were a team of 6 people :
– Game Designers : Maxime Besnard, Guillaume Dufour, Nathalie Jonquet
– Graphists : Antonin Demeilliez
– Programmers : Suliac Blineau, Gaston Robert
– Sound Designer : Gaston Robert
Download the game : https://gui83140.itch.io/heavy-brain